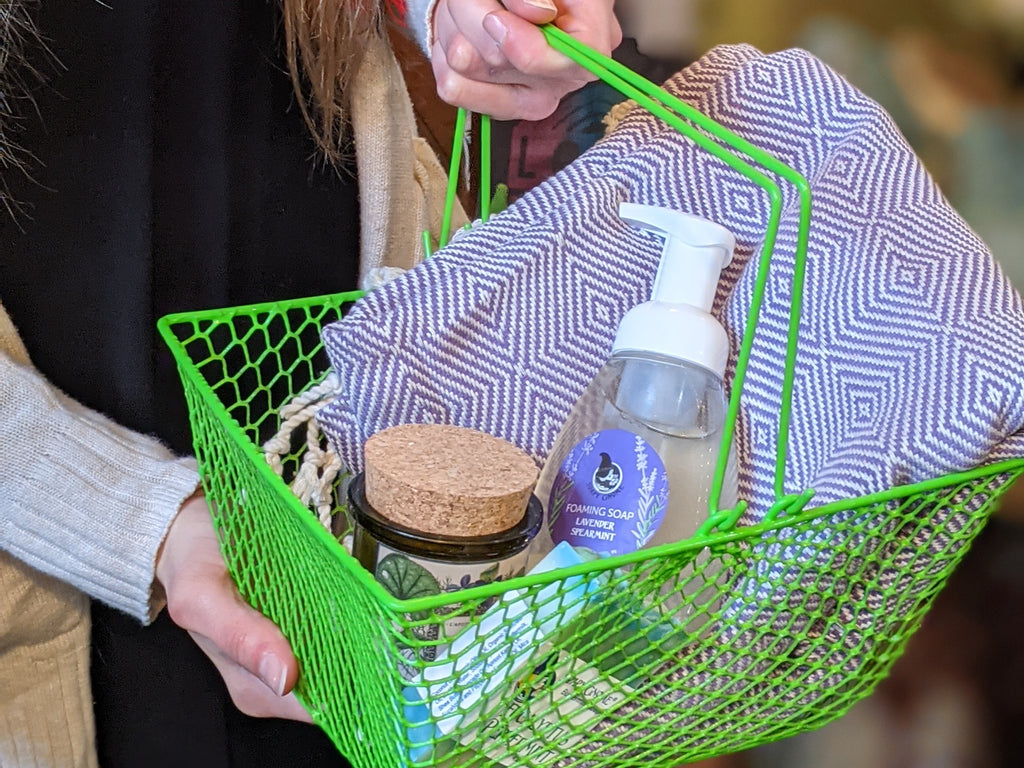 I have to admit, I was kind of grouchy last weekend. Generally, Shop Small weekend is my favorite weekend of the whole year. I love a packed store, Christmas music, and families out doing their shopping. The energy just wasn't quite the same this year.
But, we are working hard to keep the magic alive. And out of the crazy of this year, we will have some systems in place that will stay on beyond the virus, and for that, we are grateful!
We know that our customers expect a safe shopping experience, so we are doing all we can to keep our customers and team safe from the virus.
We've added safe shopping options and additional protocols in the shop to make shopping as safe as possible. 
Safe Shopping Options:
Shop online and have items shipped directly to your recipient.
We ship all of our gifts wrapped in tissue or crinkle paper. They will arrive very cute and gift ready. You can even add a note or card to personalize the gift. All items ship for $8. One address per order please.
Shop online and do backdoor pick up.
We installed a doorbell at the back door, so you don't have to come inside to pick up. Our staff is always masked up, so the exchange is pretty safe. We can also set it on the table outside if that makes you feel more comfortable.
Call in to the store or email an order if you don't see it online.
We've been working really hard to get as many items online as possible. But, some of our items are one of a kind, or we haven't gotten them online yet. If you see something on Instagram or Facebook that's not online, we can send you an invoice and we can ship it to you. Our phone is 574-971-5294 and our email is soapygnomeshop@gmail.com. 
Shop the Saturday outdoor booth
On Saturdays from, 10-3 weather permitting, we will have a booth with a few of our items on it. We can assist you with almost anything that is available indoors as well. 
Book a semi-private appointment
We have some morning and evening appointments available for up to six people at a time, so it's easier to social distance. Check out the Schedule an Appointment tab in the website menu for more details. Masks are required for these visits as well.
Shop the store during low traffic hours
The best times to shop with lower traffic are as soon as possible during the week, before 1:00 pm and then again after 5 pm. Sundays are usually low traffic days too. Saturdays are generally busy and may have a line.
Shop during regular hours
We require proper mask wearing that cover your nose and mouth. Face shields are not adequate in our shop. We also require that everyone washes their hands upon entry. We do have unscented soap available if you have scent issues. Our capacity is limited to 8 shoppers at a time, and may be reduced if COVID continues to spike.
We sanitize surfaces, air out the shop with open doors at least once per hour, and run an anti-viral difuser. We also ask that you social distance, and leave uninterested shoppers at home to watch Christmas movies to keep our space as open as possible.
Shop in-store and let us ship
We have shipping down to a science these days. Pick out what you'd like to send to your friends and family, and we are glad to package it up and ship it for you so you can avoid long lines at USPS. This applies to items purchased at Soapy Gnome only.