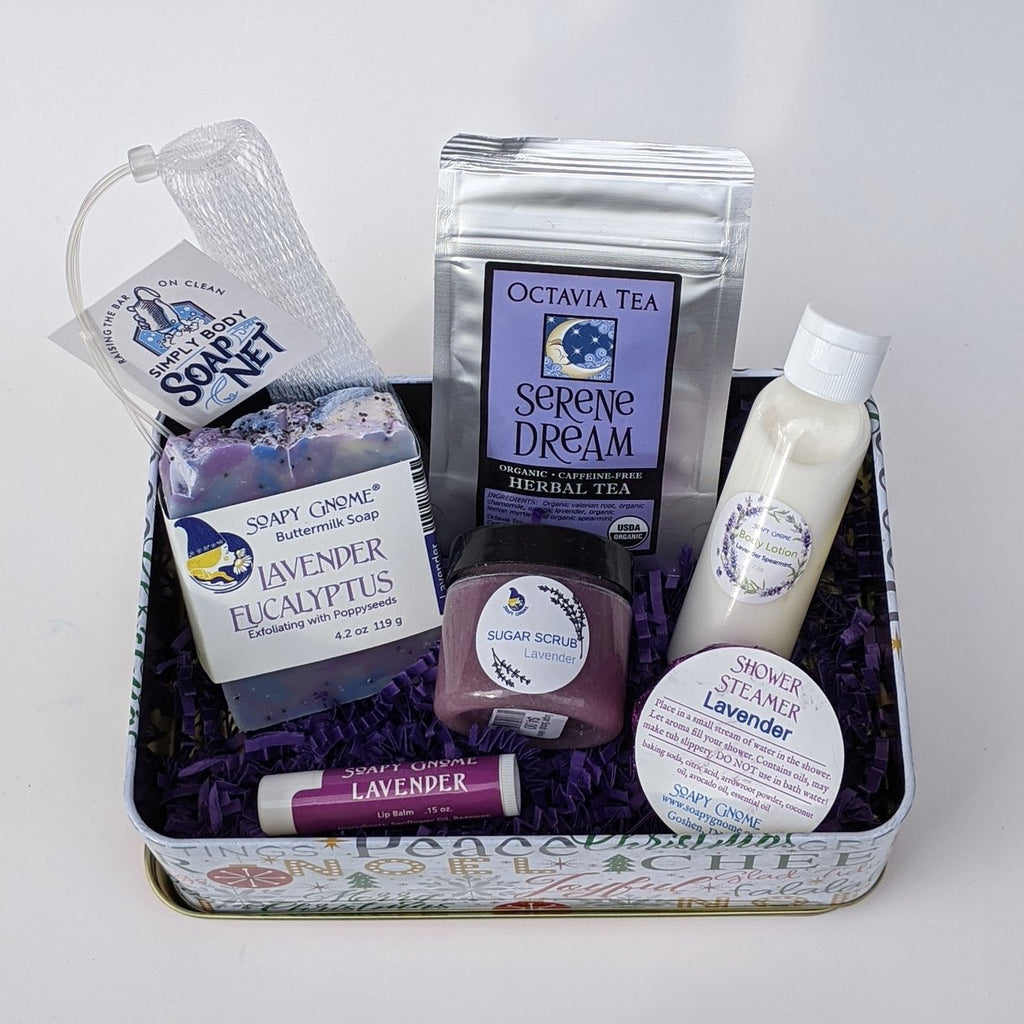 One of the things that we love most about our shop is that the items we carry are inspirational through all of the senses. Allow us to help you find just the right gift for your loved one that has anxiety or that is grieving.
It's been a tough year for so many of us. We've put together some gifts ideas so you can gift some love.
Here are some of our favorite uplifting gift ideas for people that are grieving or that have anxiety.
This one is available online and in-store. This cute little box of lavender goodies helps soothe the soul through taste, smell, and touch. Lavender is a calming scent that appeals to almost everyone.
2. Life is Tough Mug $23.99 (in-store)
This one speaks for itself. Pair it with a tin of tea to warm up your friend on the inside.
This is Soapy Gnome's newest line, and we are really proud of it! Each boxed soap includes an affirmation and a window cling that could be placed on any smooth surface like a mirror or in the shower. Each time you get ready for the day or for bed, you'll be reminded of your affirmation.
4. You Got it Girl candle by NaturalAnnie Essentials $14.99 (in-store)
These natural soy wax candles are made in the USA by a Black Owned business. We love the quality and the sentiment.
Bath Tea is the most luxurious of the bath products we offer. The salts soften the water and the botanicals and oils provide a light aromatherapy.
6. Robes and Pajamas (in-store)
Wearing something pretty and soft can help improve your mood. We have a variety of robes and comfy pajamas that make the day just a little brighter.
7. Diffusers and Essential Oils (in-store)
We have a variety of diffusers and essential oils that you can use to improve mood and help with providing a restful atmosphere.
8. Natural Tea Blends (in-store)
We carry three lines of teas in a variety of blends that you are sure to love. All are blended in the USA. Sipping a cup of tea is just about the coziest thing you can do.
9. You are Enough T-Shirt (in-store)
We have a few of these t-shirts left that would be the perfect gift. Sometimes wearing a secret shirt under a sweater, can make you feel a bit like superman.
If you see something that you like on this list that is not available online, please email us at hello@soapygnome.com or call the store 574-971-5294 and we'd be happy to put an order together for you.