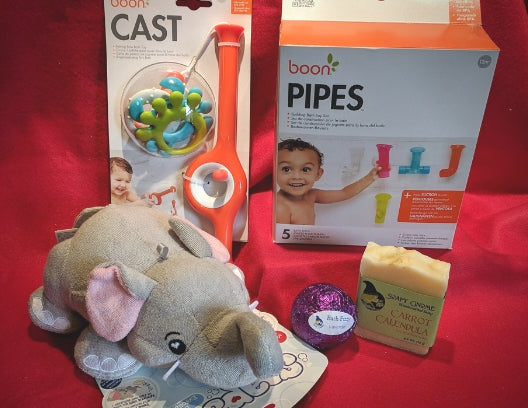 Toddlers and preschoolers have one job and that's play!

As a former high school science teacher, you would be amazed at how many kids don't understand density or gears, etc. Get your little ones some of these fun bath toys and they'll be at the head of the class.

1. Pipes and Gears can be connected however the kids like and create machines that let the water move in different directions. 

2. Musical boats and dolphins create tones and kids have a ball making up little masterpieces while they turn into prunes.

3. Cast Fishing Pole helps kids build hand-eye coordination. With those skills, they'll be helping to wash the dishes in no time at all!

4. Soap Sox make sure that kids wash behind their ears while having fun in the tub. Plus, they are stinkin' cute.

5. For little ones, we recommend unscented or lavender soaps. We also love soap nets for little hands to make washing up easier.

Do you have someone hard to buy for? Give us a first crack at helping you find just the right thing. If we don't have it, we can direct you to the right downtown shop that might!
Are you looking to buy online but not seeing what you want? Call the shop at 574-971-5294 and we can send you an invoice and ship it out.