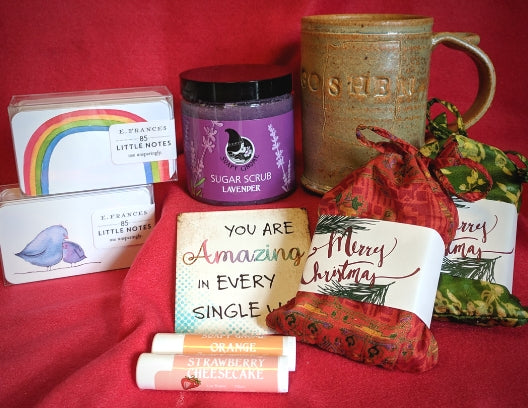 We have lots of sweet little somethings for your favorite teachers and caregivers.
We love:
1. Wrapped and Ready Soaps. Wrapped in upcycle sari bags, with a cute in-house designed label, these soaps are a thoughtful treat for the recipient.
2. Flying Bird Botanical Teas and Cocoa. These organic beverages mixed in the U.S. are packaged in beautiful tins. Every time they make a cup of tea, they'll remember your appreciation.
3. Positive Message Magnets. Teachers need encouragement. Help fill their love tank with a message of positivity to inspire them, and the children in their class.
4. The Midwest's Best Lip Balm. We don't mean to brag (but we kind of are) we make the best lip balm around. It's a long-lasting balm that doesn't require frequent application. We recommend a four pack--one for your pocket, one for by the bed, one for the car, and one for the washer.
5. Tiny Notecards. Teachers love cute tiny notes. They always have messages coming and going and a little-handwritten note sure beats an email or text.
6. Sugar Scrub. Once you try sugar scrub, your skin will constantly crave the gentle exfoliation and moisture. It's like getting a hug all day! Every teacher I know could use a hug. Spoil them a little.
7. Goshen Mug. Made by our friend, Eric Strader, this is a particularly fun gift for teachers at Goshen  Middle or High School.
Do you have someone hard to buy for? Give us a first crack at helping you find just the right thing. If we don't have it, we can direct you to the right downtown shop that might!
Are you looking to buy online but not seeing what you want? Call the shop at 574-971-5294 and we can send you an invoice and ship it out.