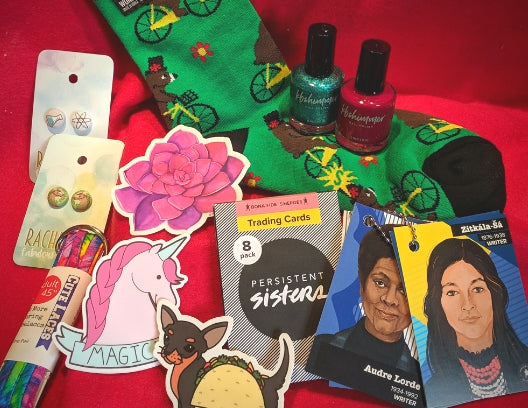 Of course, your kids love you, but sometimes it's a stretch to figure out what they really want when their response to every question is "whatever."
Teens and tweens love almost everything in the shop. Here are some of our faves that are parent approved.
1. Bath fizzies are a huge hit with age group unless they don't have a tub, then sugar scrub is the way to go.

2. KB Shimmer Nail Polish is made in Indiana and is free from many of the nasty chemicals in most nail polishes. All ages love these polishes.

3. Cute Laces fit nicely into Converse style low tops. They help each kid express themselves without the permanance of a tattoo.

4. Persistent Sister Trading Cards are fun for kids that love women's history, art, and science. They are particularly fun if you have a few kids to buy for, as they can swap cards and share stories.

5. Rachel O Earrings have designs for every girl with pierced ears on your list. These whimsical little buttons come in a wide variety of designs and at under ten bucks, yippee!

6. Sock-It-To-Me Socks are "totes adorbs" as the kids say.

7. Stickers, stickers, stickers! Everyone--of all ages--loves our stickers! Made of vinyl, they stick to laptops and water bottles.
Are you looking to buy online but not seeing what you want? Call the shop at 574-971-5294 and we can send you an invoice and ship it out.