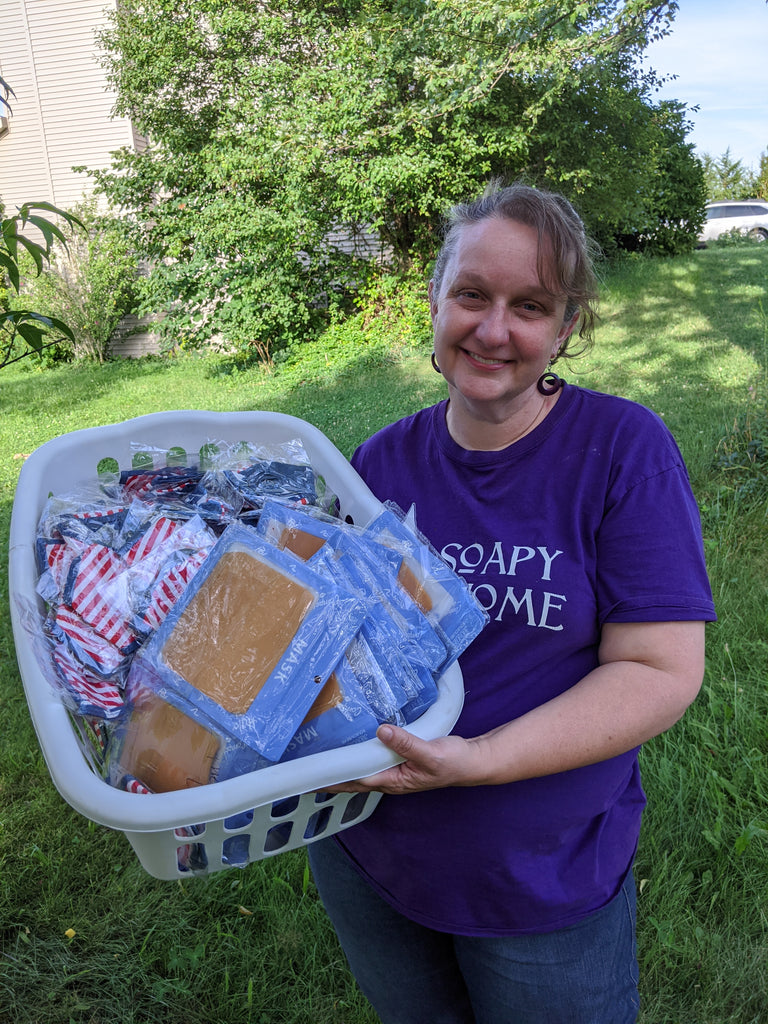 No one has to tell you that these times have felt coo-coo bananas! This time has been a roller coaster for small businesses. In fact, in April and May, I was seriously considering shutting down the shop, as I didn't know how we could afford to go on.
In June, we received a small PPP loan that helped us pay our employees for eight weeks. In that time, our team stepped up and knocked it out of the park! 
Community Donations
During stressful times, we find comfort in giving back to the community. Since March, we've donated 250 care packages to the care staff at Goshen Hospital in the ICU and Covid Units. We donated 100 mini hand sanitizers and 620 masks to individual teachers and Goshen Community Schools with the help of our customers in our Tips for Teachers promotion. 
We heard from one teacher, that her little student, cried through her mask on the first day of school. She was happy to be able to offer her student a clean, dry mask, which helped her wipe away her tears and start fresh.
Supporting Black Makers
In June, we experienced a broken window because of a Black Lives Matter Sign hanging in it. That broken window was a blessing. It created opportunities for conversations we may not have had before. It also opened my eyes to the lack of Black women maker's items in our shop. So, we're trying to do better in that regard. We've brought in a new screen printer with GORGEOUS printed hand towels, a candle maker with AMAZING scents, and several new stationers with funny and sweet messages--our fave! 
Masking Up Goshen
We pivoted and added all kinds of masks to our line-up giving us the best selection in town at a variety of price points $4-15, to help our community stay safe.
Through this time, we have insisted on face masks to keep our team and community safe. For many of our customers, this is the only place they feel safe shopping. Please help us keep up our track record by wearing a properly fitting mask and washing your hands upon entry.
Gearing Up for the Holidays
We're doing okay now. In fact, it's so busy, we've had to add an at the capacity sign to the door as we're only allowing 8 folks in at a time to help maintain social distance!
And now for the next challenge, how do we manage Christmas shopping traffic? For gift shops, the fourth quarter is where we make all of our profit for the year, which means that we are super busy in November and December.
We're trying to get creative. In the next few weeks, watch for ways to make your Christmas shopping easier and safer. 
We're going to try things like: preordering of soap and alpaca socks; Curbside pickup at our back door to ease traffic flow; adding additional items to our website for pick up; shipping items directly to the recipient on your behalf; and scheduling semi-private appointments so you don't have to wait outside. If you have other ideas, let us know, we'd love to hear them!
Thanks everyone for supporting small businesses! We appreciate you so very much!
With Gratitude,
Jenny