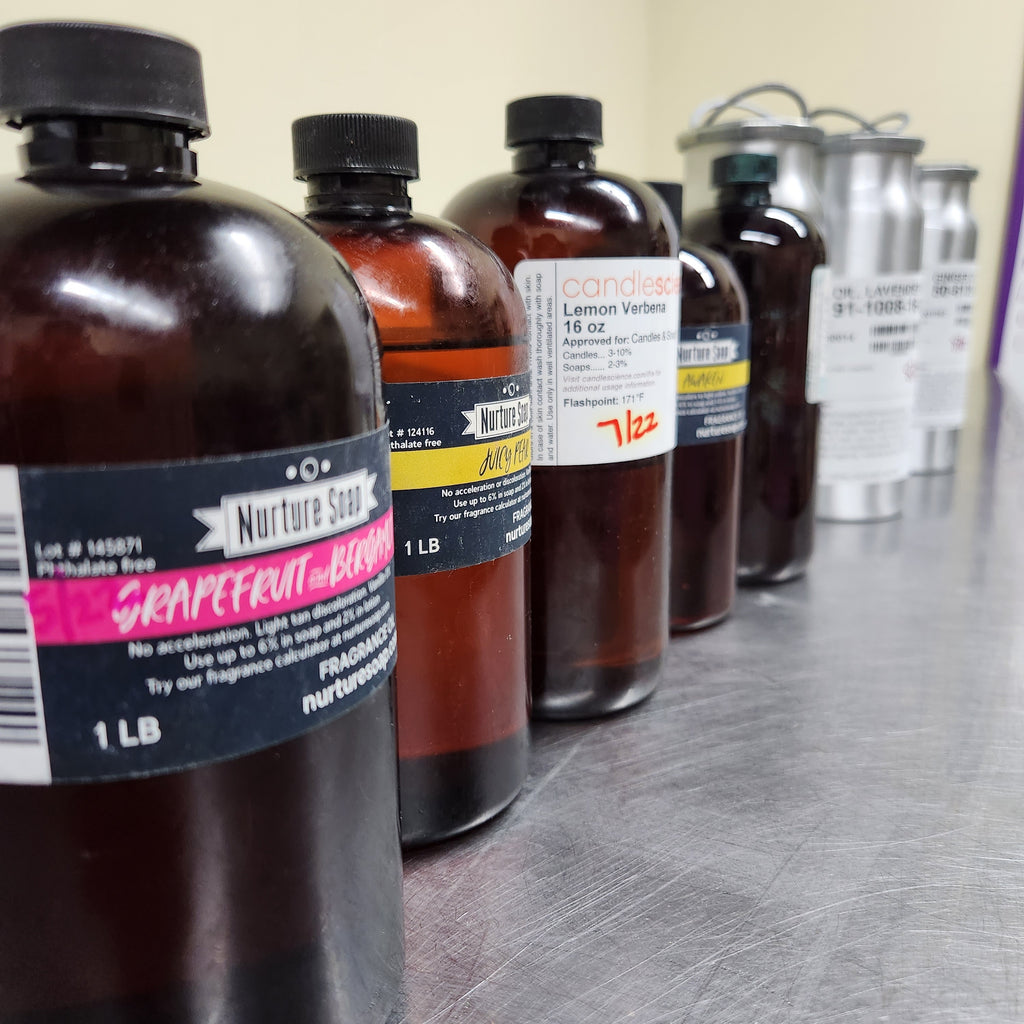 Workshop Wonders With Jaime
What's the first thing you do when you come across a soap? 
Pick it up and smell it of course!
Sure we want you to feel good in your skin, which is why we use high quality ingredients in our recipe, but we also want your washing experience to be enjoyable, which is why we scent majority of our soaps.
Scents have the ability to energize, instill calm, bring back memories, lift your spirits, and so much more. I love watching people smell our soaps and then watching their reactions.
What might smell amazing to one person can be totally repulsive to another. That is why we try to offer a wide variety of scents, including unscented for those that are sensitive to smells. We surely have a scent (or unscent) that will bring a smile to your face.
Essential Oils
Our first choice when it comes to scenting our soaps is to use essential oils.
Essential oils are highly concentrated plant extracts. Using essential oils is the most natural way to replicate the scents from nature. We source all of our essential oils from The Lebermuth Company in South Bend, IN. They are a family-owned business that started in 1908. We love that Lebermuth also has such high quality standards for their products and processes including responsible sourcing and eco-sensitive manufacturing processes. 
Fragrance Oils
Even though essentials oils are our first choice, there are situations where we need to turn to fragrance oils. Fragrance is a chemical mixture that has a smell or odor. Why would we use fragrance oils? Some essential oils are not safe to use on the skin, some essential oils are not cost effective to use in soap (I use 16 oz of scent in a batch of soap!), and some scents don't have an essential oil (example: blueberry or cotton candy). 
Safety
Whether we are using essential oils or fragrance oils, our number 1 concern is you, our customers, safety!
IFRA stands for The International Fragrance Association. IFRA developed standards to manage the safe use of fragrance. These standards ban, limit, or set criteria for the use of certain ingredients, based on scientific evidence and consumer insights. We strictly follow the guidelines set forth by IFRA to give you the confidence that you are using a product that is safe! That may mean discontinuing a favorite scent or changing the blend to keep up to date with IFRA standards.
We also have high standards for where we source our oils. Two companies that we use are Candle Science and Nurture Soaps. Both companies are 100% phthalate-free! Nurture Soaps is based in Huntington, IN. They are ethically sourced, cruelty-free, and vegan. Candle Science adheres to RIFM (Research Institute for Fragrance Materials) and also offers Candle Science Clean Scents which are free from carcinogens, toxins, and other hazardous chemicals. 
Come Smell Our Soaps
Whether you just want a scent that makes you happy, one that comes from nature, or no scent at all, we have something for everyone. Come smell and find a good fit for you!