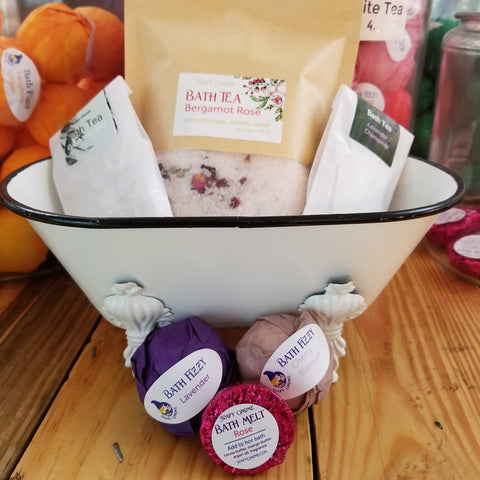 Workshop Wonders with Jaime
Bath Time!
There is nothing better than sliding into a warm bath at the end of the day and taking some time for yourself to relax and unwind. You deserve it, and so does your body! 
Did you know that there are many great benefits to soaking in warm water? 
These benefits can include:
Increasing blood flow

Calming the nervous system

Reducing stress

Improving your mood

Regulating your body temperature

Promoting good sleep 

It can even burn calories! 
There is no question that bath time is a wonderful form of self-care. We, at Soapy Gnome, are all about self-care and feeling good in your skin. We offer 3 luxurious bath products that take bath time up a notch! Those products include Bath Fizzy, Bath Tea, and Bath Melts. I often get asked what the difference is between our bath products so let me briefly break it down.
Bath Fizzy
Key ingredients: Baking Soda, Arrowroot Powder, Shea Butter, Cocoa Butter, Apricot Oil, and Fragrance

How to use it: Place it in a warm bath and watch it fizz as it dissolves.
Bath Tea
Key ingredients: Epsom Salt, Himalayan Salts, Sea Salt, Dendritic Salt, Fragrance, and a Variety of Dried Leaves, Petals, and Buds.

How to use it: Scoop some bath tea into an infuser ball or disposable tea bag then place in a warm bath. (If using an individual bath tea, just drop in your bath)
Bath Melt
Key ingredients: Cocoa Butter, Mango Butter, and Argan Oil.

How to use it: Place it in a warm bath and watch the warmth of the water melt the oils into your bath.
There you have it! Let me know in the comments what your favorite Soapy Gnome bath product is. If you don't have one yet, I challenge you to try all three and practice some self-care.