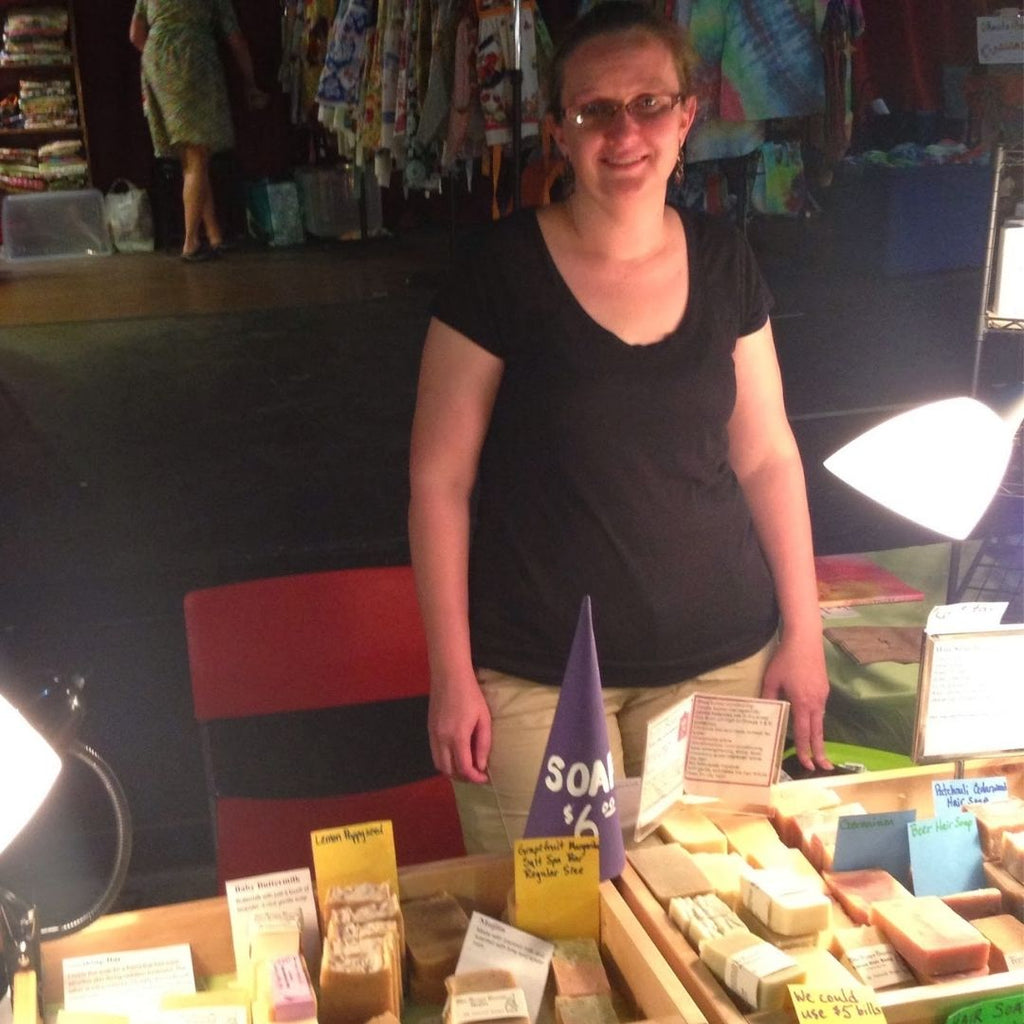 Soapy Gnome was born nine years ago, and it's still here because of you!
We're going to celebrate through the month of March with Customer Appreciation. It will be a month of free samples, promotions, new products, and good vibes. 
Most small businesses don't make it past five years, yet here we are. The gratitude that I have for our community fills my heart each day! Soapy Gnome has the best customers in the whole world.
How it Started...
I'd always wanted to be an entrepreneur, long before internet businesses were a thing. When I was little, I made flyers to get babysitting and dog-sitting gigs.
In college, I struggled with what I wanted to be when I grew up, but I was pretty sure I wanted to do my own thing. 
I'd go to the library and check out all the books I could find about starting a home-based business. Maybe some of you have seen them? Books like, "50 businesses you can start from home". Suggestions included service based businesses like word processing, or crafty items, or starting your own daycare.
As an adult, I started several little side hustles: tutoring, selling tomatoes and tomato plants, and photography. But nothing stuck.
Then in 2013, after making soap for a few months, my husband suggested that I try selling some of my soaps at the Goshen Farmer's Market. They were ugly, but the recipes were pretty good. 
He and I hustled a lot that year. My daughter was in fifth grade. On the weekends she was with her dad, Jeremy and I would go to any craft show we could find. 
In 2014, without much pre-planning, I opened my first retail shop and quit my part-time job to make and sell soap full-time.
I started the business with $500 and kept reinvesting my time and money into the business to grow it where it is today.
How It's Going...
Now we serve thousands of customers each year. We have a team of ten-ish folks working with us and they're incredible.
I have big plans for Soapy Gnome. I'd love for us to become a staple brand in gift stores, especially with our Dandewilde Affirmation Line. I'd love to do more private label manufacturing for other small businesses. But mostly, I want to serve more customers directly, just like you! We love sending out subscription boxes and gifts to loved ones far away.
My goals for working in this business are to:
Provide for my family
Create fun jobs for people in our community
Pay a fair wage
Support makers and other small businesses through selling their items in our shop.
Create a welcoming space for our customers to shop in Goshen and online
Give back to the community through dollars and lending our platform through advocacy in education and matters of justice.
THANK YOU!
The learning curve for a manufacturing business is steep and I can't believe we've made it this far!
And it's because of each and every one of you! Your encouragement, your feedback, your dollars, and your participation in the community that we've built here has each been a brick in this business.
Thank you for the opportunity to serve our local and extended community. Thank you for sticking with us all of these years!
To celebrate nine years, we're hosting Customer Appreciation Month during March. Look for free samples, specials, promotions, and new products. 
Sign up to our VIP list to find out about all of the happenings and even a Secret Sale only available to the list. 
Thank you for being you! 
xoxoxo Jenny