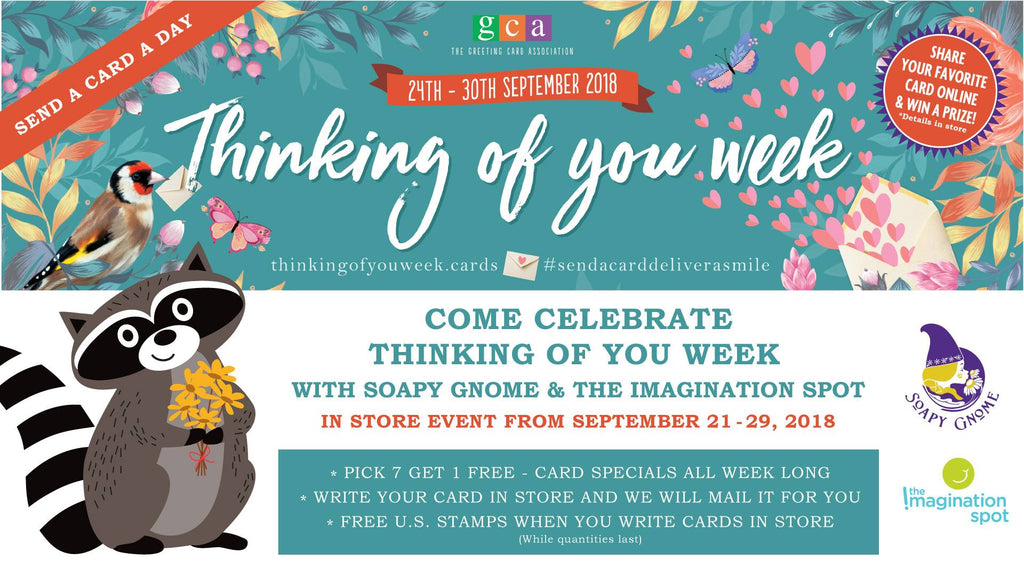 Thinking of You Week: September 21-29, 2018
We all know that receiving a handwritten card feels a million times more special than receiving instant digital communication like texts, emails or Facebook messages.
I am over-the-moon excited for Thinking of You Week--a collaborative event--with my buddy Jasmine of Imagination Spot.
Thinking of You Week is a special week to send greeting cards in a wave of happiness around the world.

Receiving a handwritten message can turn a person's day right around. You want to be the reason someone smiles don't you?

Events will be taking place across the country and we're celebrating the week in Goshen by having a card writing event at Soapy Gnome, September 21-29.

During Thinking of You Week:
Purchase a card and write your message in store, and we'll provide the U.S. stamp and mail it for you.*

Purchase 7 cards, and pick a free "Thinking of You" card from our treasure box*.

Share your favorite card on Instagram and you could win a gift pack of cards and stamps!

We'll provide colorful pens and a comfy writing space, you provide the special messages!

Bring your addresses :)

We would be delighted if you would join us!

-Jenny

*while supplies last