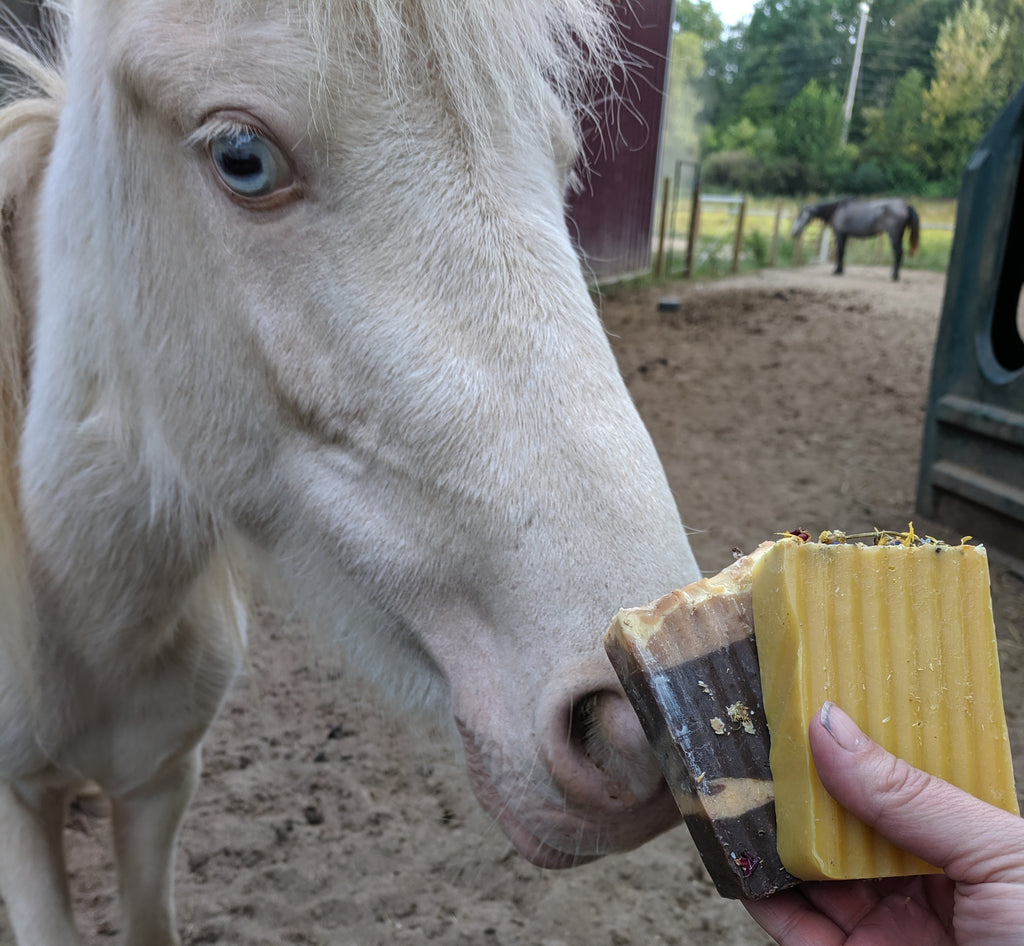 If you follow my blog, you know that recently I started taking riding lessons again after a 25-year hiatus. It's been an absolute ball and I mostly feel like a kid again (except that I can't spring up on a horse like I used to!).
The place that I take lessons is amazing. The instructor, Kristen, has a heart for animals and for kids. Recently, she started doing some horse and pony rescue. Her first rescue is a pony named Honey. Honey was found a few months ago in a junkyard. How does a pony end up in a junkyard? No one is sure about that. But she now she's home!
When Honey arrived, she was severely undernourished. She's being fed a special blend to help her gain weight and get the right nutrients. This little girl is as sweet as pie. She loves chin scratches, and when she sees her friends, she whinnies and comes right over for pats. 
Kristen asked if I'd like to make a Honey soap to help raise money for Honey's care, and you bet I said yes! We sampled lots of different scents and came up with one we think will be amazing. We call it Honey Blossom. It is a nice gentle floral scent with some orange. We topped it off with some beautiful dried flowers because Honey the pony is beautiful!
We got a little carried away, and we made two soaps. The second soap is called carrot cake, and it smells just like the real deal.
The soap will be ready in a few weeks. Bars are limited and cost $8. If you'd like to preorder, 50% of the purchase price will go to Honey and her friend, Phoenix. Stop by the shop and we'll take your order. If you are a student of Savage Riding Academy, you can also place an order at the barn.
Preorders and payment are due by October 11.