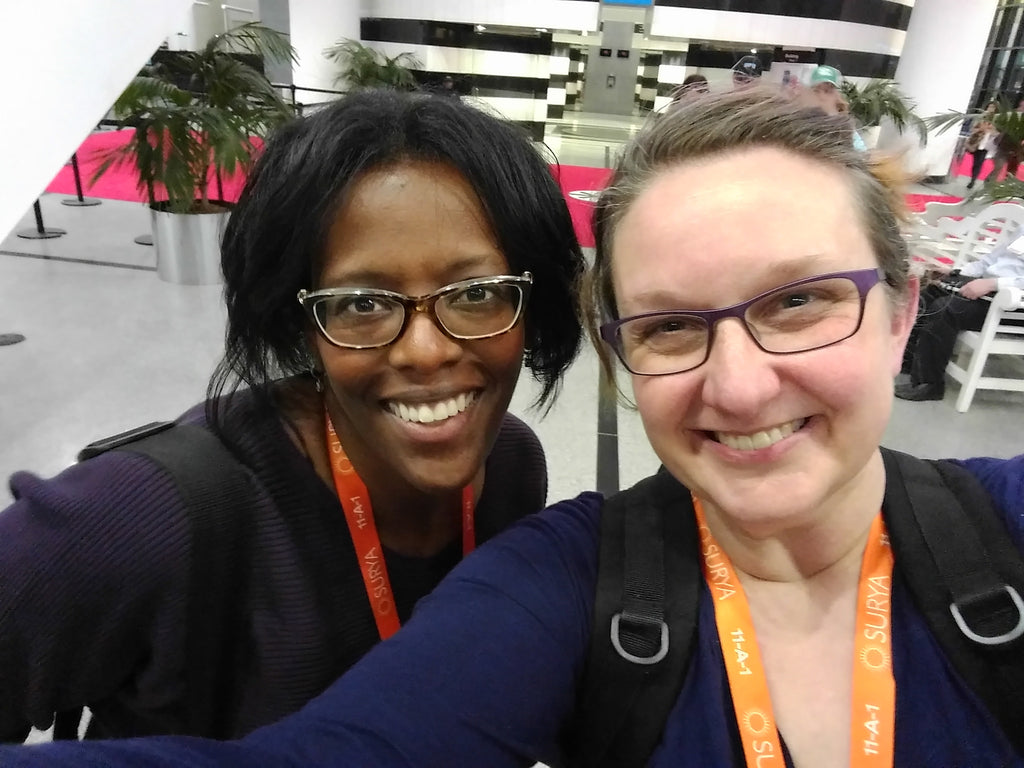 It's really interesting, helpful, and sometimes stressful to play both sides of the retail world. I am a manufacturer/wholesaler AND a brick and mortar retailer. This means, that I get to learn what is frustrating for both manufacturers and retailers since I have both roles.
This weekend I wore the retailer hat. I spent two and a half days at America's Mart looking for products that would be a great fit for our little shop in Goshen, IN.
America's Mart takes up about a whole city block in Atlanta. It's three 12 and 18 story buildings filled with showrooms and temporary exhibitors. It's like a giant shopping mall for retailers to find the latest trends, only each showroom and exhibitor only has one of everything so you can place orders to be shipped to your shop. In order to shop at America's Mart, you have to own a retail store of some sort.
I traveled to Georgia by myself, but my soaper friend of Legacy Bath Boutique, Jocelyn, lives in Atlanta. She joined me for two days to explore new brands, help me navigate the maze of showrooms, keep me good company, and keep me from making bad choices. I just finished year four of my manufacturing business and Jocelyn, year one, so there was lots of shop talk and lots to learn!
I spent time talking to makers, inventors, and reps; gathering catalogs and linesheets; and trying to imagine each product in my shop.
One of the most difficult aspects of America's Mart is the temptation to be sucked into cute showrooms that are a poor fit for my business. In my two and a half days, we probably only covered about 20% of the whole place. It's like those days where you start researching something on the internet and you end up down a whole rabbit hole that is nowhere near where you started. America's Mart showrooms can quickly become distracting rabbit holes.
Before leaving town, I researched each company online on only the floors that had things that interested me and my shop (spa products, global designs, made in USA, and a few others). I was most interested in the temporary booths. These are the folks like me that may not have a distributor. Then I did a quick pass on the America's Mart exhibitor listing looking at the photos and keywords. That pass landed me with about 300 companies/brands.
Then, I took a second pass, checking out their websites--looking at finer details--is it fair trade? made in USA? handcrafted? the right price point? cozy? bathroom or personal care related? something that would appeal to my customers? This narrowed my list down to about 200 brands.
I made a list for each floor with the booth #. I wish I'd put a keyword or two with each to remind myself what I was looking for. Names like ABC Manufacturing don't give a lot of context clues and are hard to scan for.
This pre-planning was super helpful. Though it took me about 30 hours of prep time, I could do that while sitting on my couch watching reruns of The Office instead of wandering around aimlessly. I'm sure that it would have taken at least one whole extra day at the market and that I would have missed some really great hidden booths if I hadn't done the prepwork. (This also gave me one day of free time in Atlanta with 70 degree weather to hang out a coffee shop to catch up on computer work! Go me!)
Once at the market I took it floor by floor, making sure I hit all of the booths before moving on to the next one. After day one, I doubled checked my list and went back the next day to talk to the ones that I'd forgotten. There were two booths that I initially missed that I ended up placing orders with.
In my next post, I'll post about some of my finds!