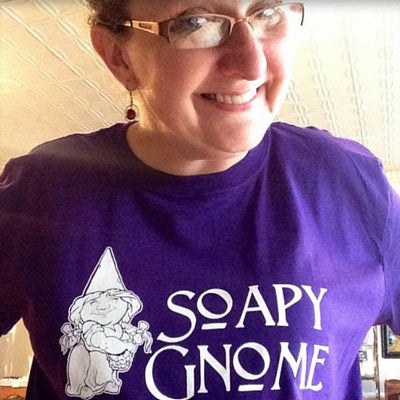 Note: there are no open positions at the moment. If you are interested in future employment with us, send a job history, and we'll keep you in mind.
We could use another gnome!
We are hiring a part-time position. Candidates must be at least 18 years old and a high school graduate. Must be available to work Monday-Friday (between the hours of 10:00-6) and Saturday between the hours of (9:45-5:00) and able to work a minimum of 2-3 Saturdays per month. Hours will vary between 8-16 hours per week depending on skills, season, and staffing needs. Christmas is our busiest season.
Candidates must be mature, trustworthy, punctual, friendly, good with customers, self-directed, detail oriented, and able to follow directions and implement the mission of Soapy Gnome. 
Candidates should be able to work from a list but also initiate and complete tasks and projects on their own within the scope of their position and upon approval of their supervisor. Employees must be able to lift 50 pounds occasionally, walk up and down stairs, and stand for long periods of time.
Hours will vary from 8-16 hours per week. Pay starts at $8.00-$10.00 per hour depending on experience, with an employee discount. The work environment is pleasant and our customers are the nicest people!
These are the primary skills and tasks of the position. Additional tasks beyond customer service are required:
Customer service and care at the shop--learn about products, recommend products, help customers sample product, be super friendly to all--Soapy Gnome serves all customers--period. EVERYONE is treated like our number one customer regardless of race, religion, gender, gender identity, political views, income, or anything else.

Handle cash and credit cards using Square as the interface 

Keep shop and storage areas organized and tidy

Sweep, mop, dust, clean bathroom

Water plants, pick up trash from front of shop

Neatly label and package product

Create shop displays

Create shop signage
Pull orders from website to fulfill

Package and ship items through online sales and wholesale orders

Customer service through email or by phone with wholesale customers.
Below are additional skills and tasks that I would like to be able to delegate. It would be lovely if the candidate had some of the following skills:
Art and craft fairs--set up and staff

Update social media with photos and promotions

Write for newsletter and/or blog

Take photos for Instagram and website

Research and suggest items for purchasing

Research, suggest and implement marketing ideas

Update Etsy and Etsy Wholesale accounts

Update products on website

Collections 
If you are interested, send a resume or job history and three references to jenny@soapygnome.com. In an email or cover letter, briefly describe related experience. I love to work with folks with experience in food service, teaching, farming or as an office assistant.
If you are called in for an interview, please have some photos of creative things you've done. It could be a craft, piece of artwork, photographs you've taken or even how you arranged your kitchen cupboards. There are lots of tasks including setting displays and social media that require some creativity.
I'm also open to hosting a college intern and am willing to do the paperwork associated with college classes for credit. An internship for business, marketing, or public relations could be a good fit. Students must be self-starters to be considered. A stipend can be arranged.