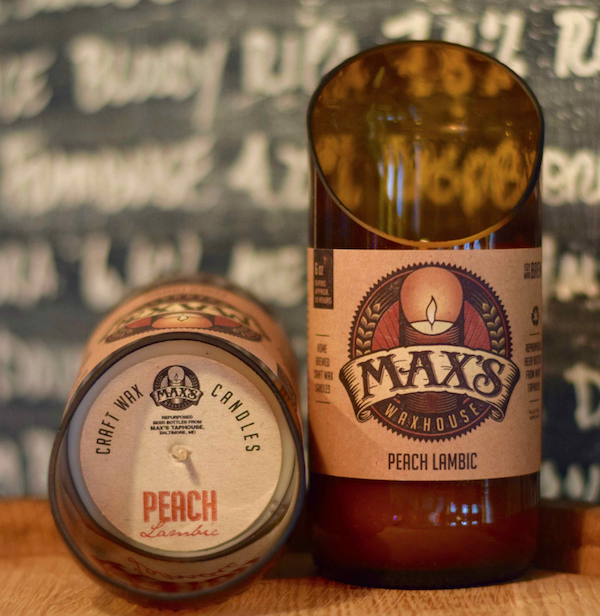 I went to America's Mart looking for treasures and I found them! I wasn't very optimistic about finding things that would complement the bath products, teas, men's grooming, and cozy things that I already carry, but I found a few practical and fun things.
Max's Taphouse Candles: Beer Soap has been a top seller at the shop. To complement these, I found Max's Taphouse beer inspired candles. I like their pleasant scents and there are two features that sold me. One, they recycle beer bottles from their bar into glass containers for the candles, keeping them out of landfills. The other selling point is that they give back to Believe in Tomorrow-an organization that helps out critically ill children.
Tooletries: This is a new brand out of Australia. They make silicone shower organizers that hold on tight to your smooth shower surfaces without the use of suction cups or sticky things. I ordered razor holders, toothbrush holders, mirrors, and kid toothbrush holders that attach to your mirrors. They also make dopp kit travel bags out of silicone which is perfect for the swimmers in your family! Will ship in March.
Natural Sea Sponges: I ordered new sea wool sponges, sea silk to use as cosmetic sponges, and small exfoliator sponges. If you love natural sponges, you'll love these! 
Good Clean Love: This company makes organic feminine hygiene products like feminine wash, pH balancer, and lubricants. I really like this company's brand philosophy. It's available at some of the big box stores, but this will allow you to make one stop for your favorite body soap and now your favorite feminine wash.
Vaan Company travel bags: Last spring, I ordered some of their cross body and travel bags and they were a hit. They upcycle suede and leather scraps from the Indian garment industry and turn them into useful and fun bags. I ordered some cross body bags, dopp kits, small travel bags, and zippered travel bags. I like this family owned company: they were neighbors at a tradeshow are really nice people. We did a little bit of a trade at that show, and the mom still talks about our soap. It's a fun connection!
That's all for this post, but not all of our lucky finds! Stay tuned for more!