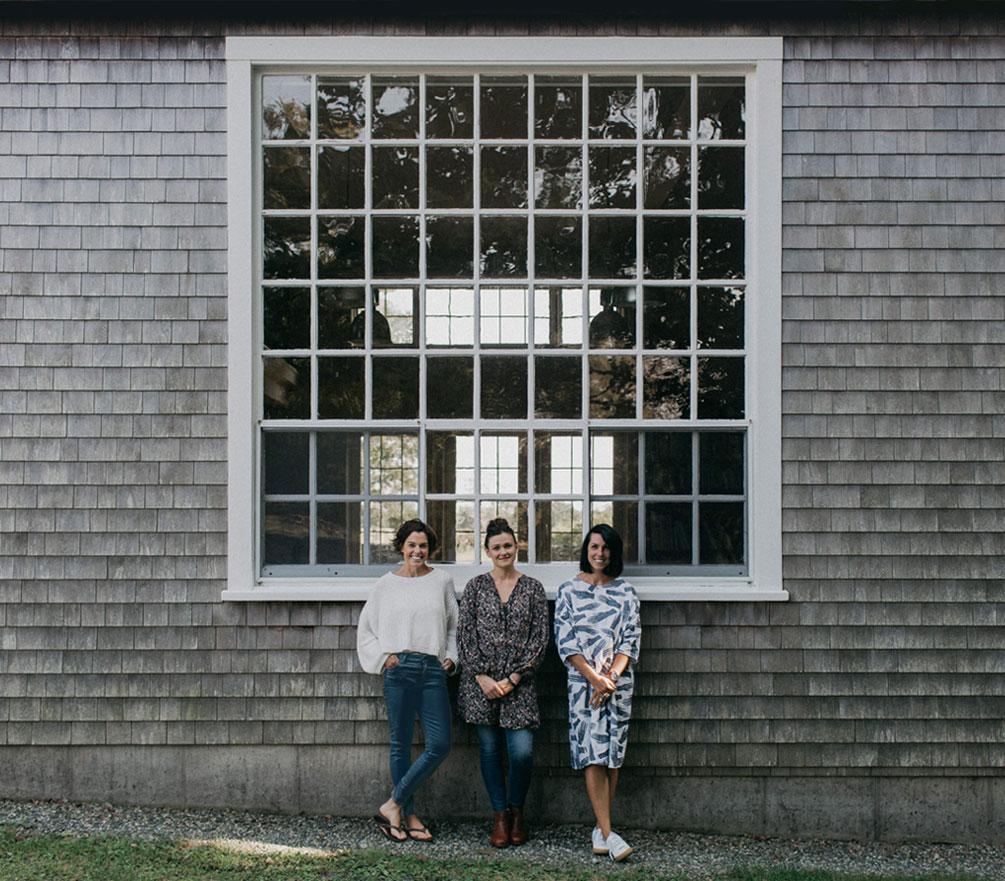 You know when you see a card and it's just perfect?
The message, the artwork, exactly what you wanted to say but didn't really know how to? E. Frances Paper is a pro at the sweet spot of sincerity, sweetness, and unexpected humor paired with beautiful watercolor artwork. 
Self described as a business "like a big ol' cookie that is made form three simple ingredients: love, kindness, and positivity," this sister run company in Rhode Island is committed to spreading positive energy and happiness. It's a real treat to carry these cards in our store! We had the pleasure of talking with Jenni, director of sales, and 1/3 of the sister team to learn a bit more about E. Frances. 
How did you start making stationery?
well this is jenni, so i don't have to be modest because it's my sister's artwork ha! so we started by trying to think of a way to exploit her talents and share her art with the world. cards seemed to be a great first product and suited her charming and beautiful illustrations. 'prute' we call it... combo of pretty + cute ;)
Where did you grow up and how did that influence your work?
two of us grew up in Massachusetts (is there truly anyone who doesn't like the pats? we don't get it) and the third was in NY (OH right NY may not love them...). we all had many summertimes on Cape Cod, and there is a definite sea side feel to a lot of our products. perhaps also our moms. they made everything very special to us and sweet, and we grew up very very lucky girls with a lot of love. so we like to spread the sweet, special things.
What is it like to run a business with your sister squad everyday?
insanely awesome. we can't believe this is real work and we're not just playing. certainly it's hard to focus some days and concentrate and not just talk about how cute our nieces and nephews are. but the closeness you have with family is an incredible bond for a business. we know all three of us want to make E. Frances a huge success, and it's comforting to know we're all in this together.  
What inspires you to create your work?
the fact that we own our own business is a constant reminder to kick ass, create amazing products and make it a huge success in many ways. so that's the hustle inspiration. the artistic inspiration mainly comes from things we love now, loved as children, and make us happy deep down. if we can create something that makes people smile, or think of a friend, or a memory - bam! success.
 What is one challenge you have had to overcome at E. Frances?  
it seems like our biggest challenge, continually, is having enough time to do everything we want to do. we're all moms of 2 kids each, and being a working mom is such a massive challenge that's often talked about but nothing lessens its intensity. we all wish we had more time to launch our company higher and faster. but that said, we're happy to take things as they come - all in good time.
I see you like making "experimental brownies." What is the best brownie you have ever created? 
oh well this is my favorite question ever! to the displeasure of most of my test audiences, i never use white sugar, and right now i'm experimenting with molasses. has some amazing chewiness, that molasses. plus honey, coconut milk, three kinds of chocolate.... AND right now it's Friday! difference between tonight and other nights is Friday night is officially brownie night so i can eat more with less guilt.
What keeps you going when you feel like giving up?
never wanting to let my sisters down
Who do you look up to, what other artists influence your work?
to answer for Ali, the artistic third of our collective brain, i know she really looks up to my dad. he's a fine artist through and through, we grew up with his oil paints, watercolors, pottery, photography, etc etc etc.... he is an incredible example of multi-talented guy who, rare bird that he is, is amazing with both left and right sides of his brain!
What is your favorite aspect of your job?
buying office snacks. we good in the break room.  
Can you tell us a bit about your creative process? 
all three of our brains need to work together to get our best end products. it's fun - we usually start with an idea and then come up with some horrible, then hilarious drafts. sometimes ali does the art first and we think of the perfect words after. sometimes we tell her exactly what to paint and she rolls her eyes but then does it perfectly. (can you paint a turkey, from behind, running and sweating and glancing over his shoulder? ya, just do that.)
What is a goal you currently have? 
oh ga too many to name! we have lofty goals, tiny goals, brownie goals... we can't wait to have E. Frances be a more recognizable name! that's a good one.
How do you want people to feel when they receive one of your cards? 
happy! connected to someone or some feeling. nostalgic. happy. :)
What is something you wish more people knew about you or your work?
words have power... if you listen to what you say, and put a little more love behind your words, magic can happen!