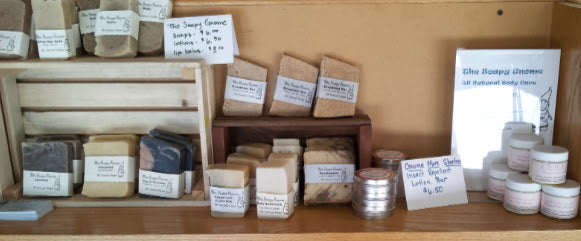 Jenny and I (Jeremy) have had a myriad of jobs. When we first started dating, we'd talk about the common thread. Both of us have worked a variety of odd jobs as adolescents and teenagers. Her first job was dog sitting at age 8. At 8, I was walking neighborhoods asking if I could mow lawns.
In , Jenny and I both worked at Notre Dame. That spring, Jenny had started making soaping and selling it at the Goshen Farmer's Market. Jenny and I had thought that this business could be something that our then young teenagers could help with.
In , while commuting back and forth, we talked about this young little hobby business. During one of those commutes, we started talking through what it might look like if Jenny were to leave her job and dive into Soapy Gnome full-time.
Jenny thought about the Christmas season and rightly assumed that her soap would make a great gift. We also figured that it would be better for Jenny to have as much possible focus for the business during the gift-buying season.
We would secure a year-round booth at the Goshen Farmer's Market; this would be our anchor. And she'd track down weekend craft shows that lead into the Christmas season. Those two venues would be where we'd sell things.
Those Christmas season shows would begin in early and mid-October and go through Christmas. She'd need a month's lead time to allow for making and curing the soap. And she'd want a bit of time to experiment with scents and colors.
I remember our shared excitement at settling on the date when Jenny would leave Notre Dame.
I was driving north from Wakarusa on Indiana State Route 19. And as we laid out that timeline, we both agreed that Jenny would leave her job at Notre Dame on September 1st. That was 6 weeks away. We'd use those 6 weeks to sock away money as we moved to a single income.
The mental release was palpable; Jenny loved what she did, but there were office stressors that wore her down. And knowing that she would soon be stepping away brought excitement for both of us.
I didn't realize what was in store. The all-consuming weekends of juggling teenagers, blended family schedules, Farmer's market Saturdays, and Saturday and/or Sunday shows.
A whirlwind of hustle.
Loading and unloading vehicles in snow and slush; setting up and tearing down tables and Jenny's product line: soap, lip balm, lotion bars, and deodorant. Beginning to develop relationships with customers and retailers. And learning how to gently engage customers to pique their interest in our products.
And in that whirlwind, we learned that we loved these times together. These two little kids working since they were eight, had found something they loved doing together. We both loved hearing our repeat customers come back and say, "Your soap is the best."
In those early days commuting to Notre Dame, we had no idea that we'd be where we're at now. We weren't thinking about retail space, employees, product lines, nor online sales. We just wanted to make sure that Jenny would have the time to explore where this could go.
-Jeremy
Gnome Cheerleader