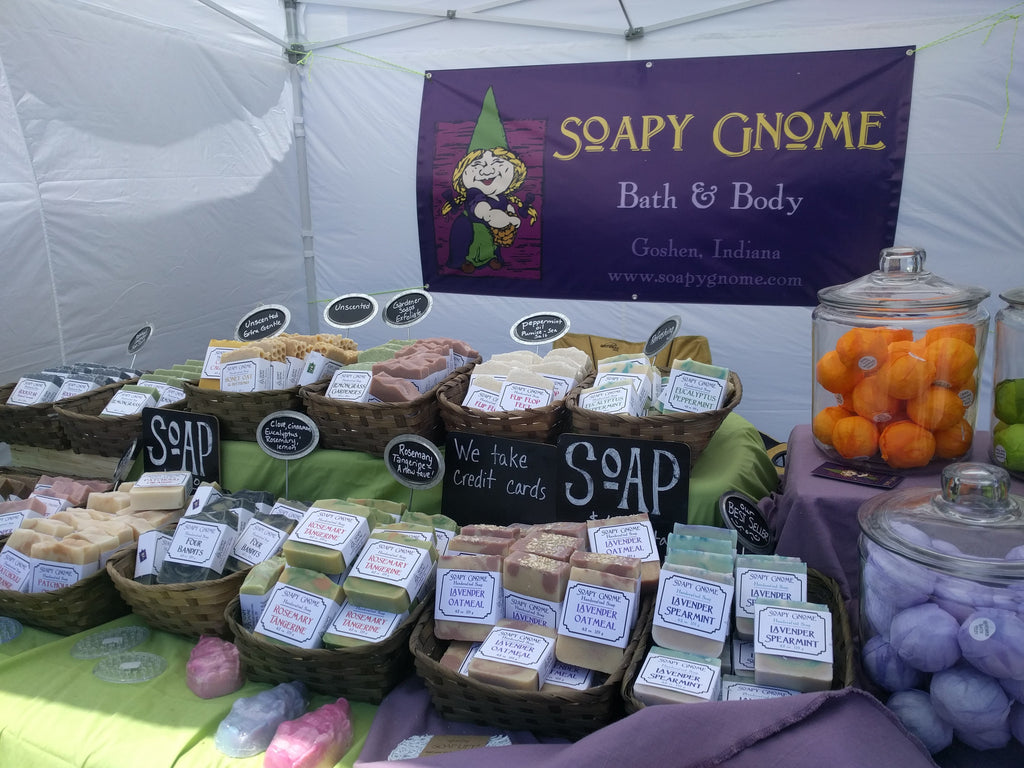 In my last blog post, I promised that I would share my goals for the business for this year.
I always knew that I wanted to have my own business someday. When I was a kid, I hustled to earn money. As an adult, I tried several businesses that never quite took off--I'm pretty sure I know why, but I'll share that another day.
Soap making started as a hobby. There are several problems with soapmaking as a hobby: it's expensive to buy ingredients in small batches, you only NEED one batch a year for the whole family, and it's fun to experiment.
Soap making didn't remain a hobby for me for very long. Early on my husband recommended that I sell at our local farmer's market. The first months were pretty slow, but friends bought some to show their support, and I kept experimenting.
Six months in, I quit my part time job to try to make a go of the business. Three years later, I pay myself a small stipend and keep rolling the profits back into the business. We spent the first year at the market and shows. Our second year, we added some wholesale accounts and a brick and mortar shop. Our third year, we started attending wholesale markets.
Sometimes I run across folks that think my business is cute or a glorified hobby. I'm not trying to pay for my soap habit, I am building an honest to goodness business. The day it becomes a glorified hobby I'll stop making soap.
I try to make smart business decisions to help grow my business. I'm also willing to share some of what I learn along the way to help others thinking of starting their own business. Much of this can apply to all sorts of businesses, not just soap makers. 
That's a little bit of background so you can understand my goals a little bit better for 2016 and beyond.
Goal 1: Update and tweak branding
I took a branding class this year to get a better handle on my brand. In the past, I had a hard time putting to words what makes my brand stand out from other natural soaps. I was able to narrow this down which means a few tweaks to my branding including a logo update, new website, new labels and packaging.
Goal 2: Start online sales for real
I've had an Etsy site since about the beginning, but I only had it so friends and family could order online. It was sad and neglected. Shipping has always seemed like a big hurdle. There is a lot of logistics to work out, and soap is expensive to ship. We have set up a shipping station at the shop, updated our website (you're looking at it), and are reaching out to potential regional buyers. We are ready to ship!
Goal 3: Attend more arts and craft fairs
To reach more folks in the region, we have to meet them face-to-face. While our soap is great quality, smells delicious, and makes you feel comfy and cozy, it's easier to convey that in person. Once we reach new customers, they'll feel confident reordering online. We hope to be one of the premier soap companies in the Midwest.
Goal 4: Add wholesale accounts
To reach new retailers, we have to attend wholesale shows where shops scout out new products and do their buying. We've been to a couple. They have always been successful, but they are a huge investment of time and money. By having our branding tightened up and more brand awareness, we should have an easier time reaching retailers that are a great fit for our brand.
Goal 5: Keep up with my blog
I have a heart for working with other business owners that are trying to reach their full potential. I will share some of what I've learned along the way in this blog. I'll speak mostly to the art of entrepreneurship. But, I won't be sharing much about the specifics of a soap business. I won't be sharing my top secret recipes, methods, or my suppliers. Though if you are a solopreneur, especially a maker or a retailer, you'll enjoy following my journey.
Being an entrepreneur is not for the faint of heart, but for some of us, we just can't help but push forward with our dreams.