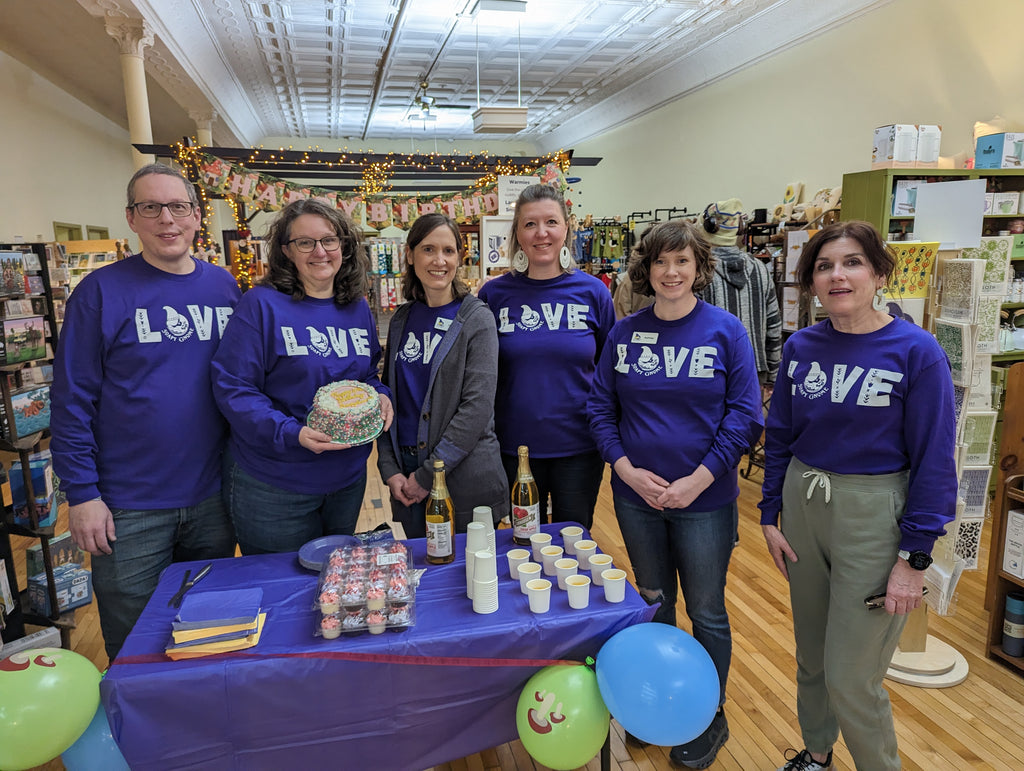 From the bottom of my heart, Thank You.
The last ten years have been quite the ride. We're at a place that I never thought we'd be. When I started, I knew almost zero about business, building a brand, and I didn't even really know anyone in Goshen. 
And now, I have an incredible team surrounding me, customers that are the NICEST people on the planet, and a store that brings joy to the whole community.
A Brief History of Soapy Gnome
I started making soap as a hobby. As the hobby grew out of control, my husband, Jeremy, suggested that we sell at the Farmer's Market. 
On January 28, 2013, I registered the domain SoapyGnome.com which was the official beginning, as all great endeavors start with a name!
Sometime in February or March of 2013 we started selling soap at the Goshen Farmer's Market. With the help of my hubby, Jeremy, my daughter, Eliana, and my mom, Rita, we started slinging soap at craft shows. Slowly, we started gathering a following.
As you can see below, our first soaps were UGLY. BUT, they have always felt great on your skin.
In the spring of 2014, we opened our very first shop. For a hot minute, we were in the basement of the NW corner of Washington and Main Street.
But, in just a few months, the space at 111 E. Lincoln (under Common Spirits) became available. I'm grateful for the tiny space that allowed me to see what retail was all about. At this point in time, I was making soap at home in my basement and we were only open a few days a week as I was trying to juggle everything myself.
After growing our business for two years in that space, we moved to Washington Street in 2016, which was an amazing light-filled space. In 2018, I moved the soap workshop out of my basement and to the shop. We could have stayed here forever, but we needed more room to make soap, so in 2021, we made the move to Main Street.
We survived Covid due to the loyalty of our customers and my teams ability to flex and bend! During that tough time, we learned how to make our website more stable, and we learned some ways to better connect with our customers.
Now, we have a whole production team that keeps our shelves stocked, and folks that help with sales and marketing. We truly enjoy working together.
Why I Love Soapy Gnome
There are many reasons I love this business that we've built together. I have several goals that this business allows me to achieve.
1. Curate practical, yet beautiful gifts and products for the whole family. I love that we can offer useful products that you'll be proud to gift. In many cases, we support other small, independent businesses. 
2. Create fun jobs that let my team utilize their super powers.
3. Be an important part of the community. We love that we can participate in giving back to local non-profits that fit into our brand mission like supporting teachers, healthcare, immigration, and animals. We also love being a special place that y'all bring your family and friends when they come to visit.
Extra Special Thank Yous!
To our customers...
Thank you to all of you that have shared your love of Soapy Gnome with others. We love it when you gift your favorite products to friends and family. We also love it when you bring your friends in to the shop as one of your favorite Goshen places. How long have you been a part of the Soapy Gnome community?
To our current team...
I'd like to acknowledge all of the people that helped me along the way, especially our current team: Stephanie, Sasha, Kendall, Acadia, Emily, Ashley, Alianna, Tara, Jaime, and Andrea Z.
To our team, past and present...
I'm also grateful for all of the team members that came before whether they were with us long term or as a seasonal employee: Katie (our first employee!), Kristin, Carrie, Anthony, Jonathan, Leah, Jama, Sophie, Julie, Lindsey, Michelle, Bailey, Kaitlyn, Mel W., Mel H., Andrea H., Ebony, Serena, Montce, Hannah, Ramona, Jen, Jacie, Andrew, Chloe, Carina, and our interns Jacque and Maya.
Our families...
And a super special thank you to my husband Jeremy and my daughter, Eliana, and mom, Rita, and Dad, Hank, that have helped support this business in a multitude of ways. Thank you to my son, Aidan that shared the basement with my soap workshop in the early days. And thank you to the family members that have helped along the way, especially Jason, John, Conner, and Kara.
Celebrate All Year With Us
We spent February celebrating our birthday in a big way. We had Froggy 102.7 out to help us celebrate with cake and tours, we hosted Super Sample Saturday which was our biggest event to date, we also sampled our foodie gifts, and opened the shop up to kid entrepreneurs. 
But, that's not all for our 10 Year Anniversary!
Each month, we will be spotlighting a different local artist with our Scent-of-the-Month packages. So far, this has been tons of fun. You can subscribe to the Scent-of-the-Month boxes here or stop by the shop and buy them one-by-one.
We're also going to be running a Smile Maker promotion on Froggy 102.7. So have a listen and nominate someone to win a gift card!
Thank you Soapy Friends!
xoxo Jenny 💜