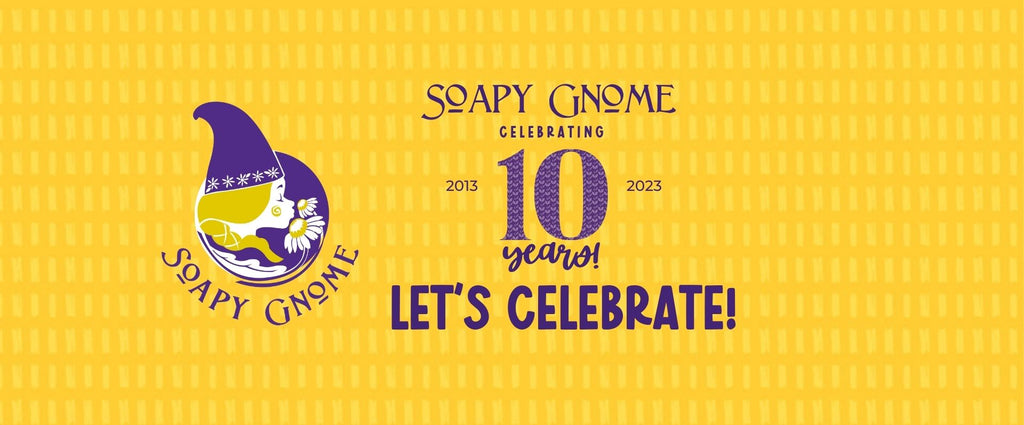 Because of our amazing customers, we're able to celebrate 10 years! Thank you!
Join us for our month long celebration. Each Saturday, we'll have activities and specials to include you in on the fun.
February 4th -- Birthday Party
At our birthday party, we are giving away $1,000 worth of prizes and experiences!
You could win a soap making day with Jaime, an hour long business or job coaching with Jenny, a year of free soap, and more! No purchase necessary!
We'll have something sweet for our guests and we'll be giving behind the scenes tours.
Schedule:
Enter prize giveaways 10 am-4 pm.
Music with Froggy 102.7 FM
noon-2:00pm
Tours:
11:30 am
12:30 pm
1:30 pm
2:30 pm
Cake cutting at noon.
February 11 -- Super Sample Saturday
This may be our favorite event of the year!
For $20.13 you'll get a limited edition Soapy Gnome reusable tote that you'll fill with samples of your choice for you to try, so you can get better acquainted with our products in your own home. (Value $50+). While supplies last, no rain checks.
Preorders are available to secure your spot. We will only have 100 totes available. Once they're gone, they're gone!
Bring your pals and make it a Galentine's (or Palentine's) Day celebration!
We'll also have the prize wheel going, spin the wheel and win a prize!
Sample bags can be shipped with our selection of samples. Bags requiring shipping will be shipped on Monday, February 13.
We will also have testers available for you to test products not included in the bags. 
February 18 - Cozy Day
Wear your cozy clothes to the shop--pajamas, yoga pants or floofy sweaters--and do cozy activities with us.
Sample our teas and some of our new food product lines.
Sit at the community puzzle table and work on a puzzle and make new friends.
We'll have a photo booth for those of you feeling cute in your cozy gear.
We'll be playing super soothing music and probably light a candle or two.
February 25 - Kid Biz
One of the things that we love at Soapy Gnome is mentoring young people.
Jenny, the owner, was a kid entrepreneur, but with no other business folks in her family, she was on her own. That's why she loves supporting kids with dreams.
Soapy Gnome will be inviting 3 kid entrepreneurs to sell their wares in the shop.
Stop by to learn more about their products and businesses, and support these young business leaders with your purchases.
Winners of the gnome drawing contest will be announced on this day.
The kid's booths will be open from 10-2 while the store is open until 4 pm.