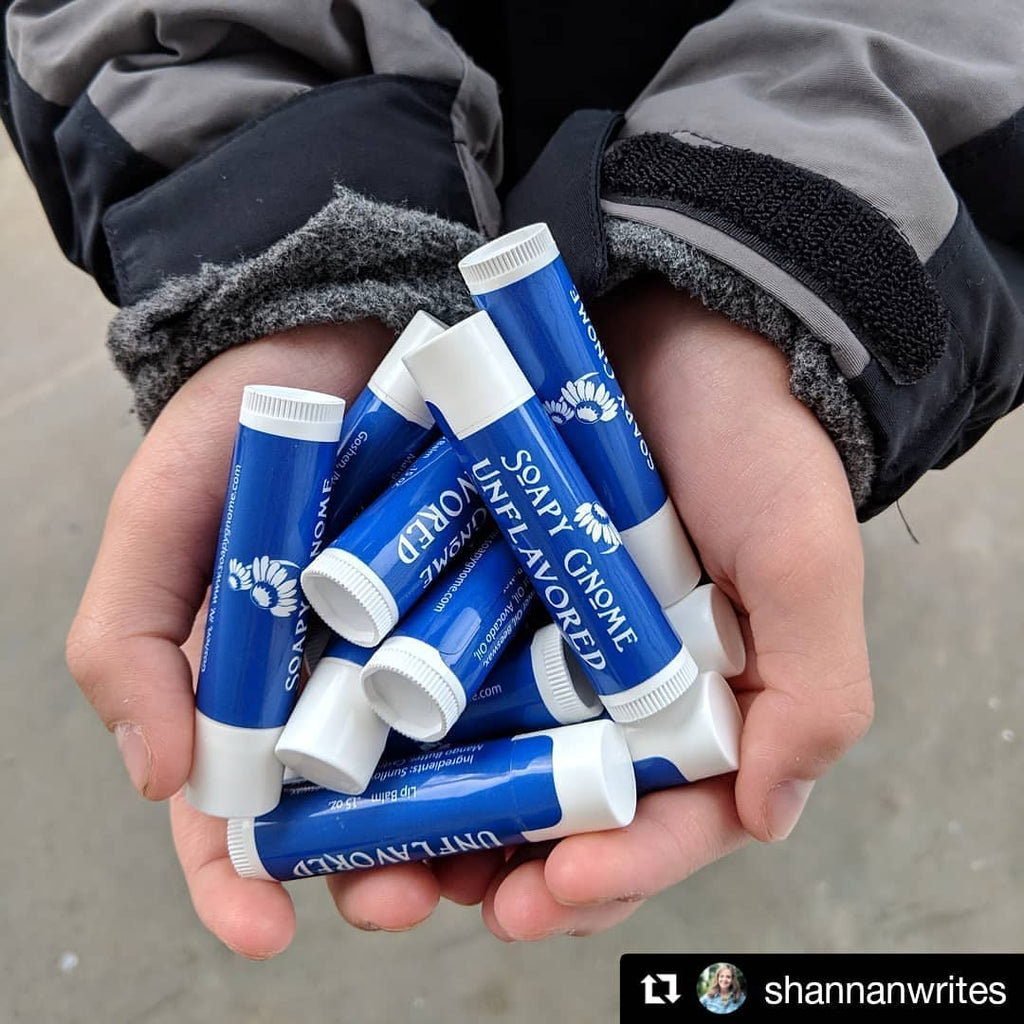 This is a two-part story of small mistakes and simple, unexpected requests. You may have seen part of it on Instagram or Facebook, but here is the complete story which I think is pretty cool. Read on to see how the universe brings it all together.
Then go on over to ShannanMartinWrites.com and follow her on @shannanwrites on Instagram for beautiful insights into living.
Part One: Soapy Gnome's Mistake
By Jenny Frech
About a month ago, Jacie and I were catching up on making lip balm. We were almost out of lavender and peppermint, so those were top on our list. We got everything made, and poured into the little tubes.
Ahhhh, the satisfaction of a job well done.
Except.
I looked over and noticed that I forgot to add the lavender flavor to the batch.
Rats.
There is no remelting at this point. We had a whole batch of unflavored lip balms, which we sell, but the stock was full.
We sell most of the unflavored lip balms to people that are tempted to lick their lips--mostly little kids. When they lick their lips, they get even more chapped which causes a cycle of bright red lips.
We labeled and tucked the lip balms away waiting to restock them in the shop later, while I kicked myself for not doing the batch right.
Part Two: An Unexpected Request and Generous Hearts
By Shannan Martin

A story.

I was recently in a meeting at the elementary school and someone said "You know what we need? Lip Balm." The next Sunday I grabbed the mic at church and shared. An hour later I had $62 and ALL of it came from people who were in work release and have very little. 😭 (Reminder: we all want to live generously!) I reached out to one of my favorite local shops, @thesoapygnome and said, "I'll take as many lip balms as I can get for $62."
She hooked me up (yay, community!) and a few others from church added what they had grabbed to the hopper. When I delivered a giant bag of lip balms to the office last week the school nurse squealed.

Takeaways: ✔️ Ask people what they need. Don't assume you know. ✔️ Work with the people near you. Support each other. Love your neighbor WITH your neighbor. It's just better that way! ✔️ Small is big. Small is big. Small is big. On Repeat. Amen.
****
I'm thankful that I made the mistake of forgetting the lavender in the lip balms so I could afford to give Shannan a great deal and with unflavored which is the best for littles.
I'm thankful that the school nurse asked for what she needed.
I'm thankful that Shannan shared the requests with her church community and that her friends gave with their whole hearts.
We're incredibly lucky to live in a community that rallies together for small and big requests.
Keep loving your neighbor!