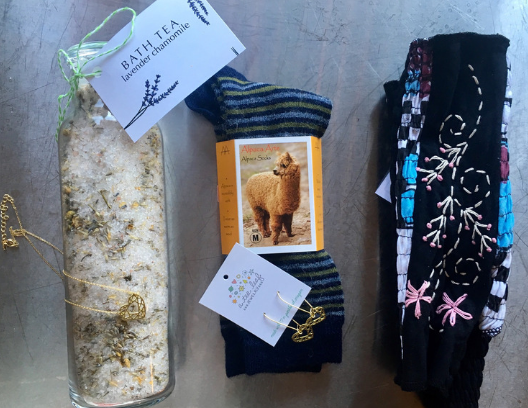 This time of year, the pressure is on to find just the right gift. Our little shop is curated and filled with beautiful gifts lots of women love. If you come in, we're glad to ask about the lovely woman you're buying for and we'll help you find just the right gift. 
Here are some ideas to get your juices flowing.
1. Jewelry. We have lots of fun jewelry made by artisans that you won't find at big box stores. We can help you find just the right piece that fits her personality. We especially love A Tea Leaf brass jewelry, Sue Scamihorn ceramic jewelry, and Caitlin Lanctot copper enameled earrings.
2. Bath Teas. Bath teas are the most luxurious of our bath items. A combination of bath salts and botanicals sets just the right stage for a relaxing evening. Add a candle, and she'll be delighted.
3. Hand Warmers. Is she always cold? Handwarmers are great because you can use them indoors too. But remember the saying, "cold hands, warm heart", and that's why you love her so.
4. Custom Gift Baskets. We'd be glad to put together a beautiful basket for your honey bunch. You can either stop in or give us a call and we'll put together a themed basket based on your budget. $50 and up.
5. Wish Lists. Does your schmoopy have a wish list with us? If not, encourage her to fill one out. Then when you come in, you'll know just what to give!
Have no fear this gift-giving season.
We have lots of great ideas and a caring, helpful staff to make it easy peasy.
And if we don't have just the right thing, we can help you find the right downtown
Are you looking to buy online but not seeing what you want? Call the shop at 574-971-5294 and we can send you an invoice and ship it out.