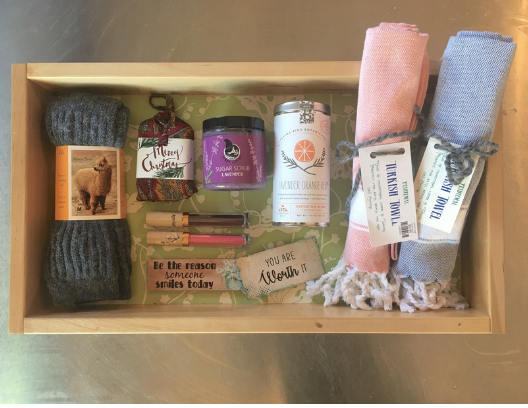 Do you have a group of incredible women you'd like to show a little love to?
We have some super cute gifts for them.
1. Wrapped and Ready Soaps. So cute, so thoughtful and they can reuse the bags. The bags are made from upcycled sari bags by women that have escaped sex trafficking.
2. Sugar Scrubs. Sugar Scrubs are a hug for your skin. Try them once and you'll be hooked.
3. Inspirational Magnets. When your friends spy these magnets on their fridge, they'll be reminded daily of your friendship.
4. Noyah Lip Gloss. Made with lip safe ingredients, these lip glosses come in a variety of shades from subtle to saucy!
5. Alpaca Socks. Is your whole group always cold? Consider keeping their tootsies warm with some super soft socks for their feet.
6. Organic Tea. Is your book club keener on tea than wine? We have three lines of lovely teas your group is sure to love.
7. Turkish Hand Towel. Made in Turkey using traditional looms, these towels will add a shot of color to any bathroom. They're an especially lovely gift to add to a soap gift.
Do you have someone hard to buy for? Give us a first crack at helping you find just the right thing. If we don't have it, we can direct you to the right downtown shop that might!
Are you looking to buy online but not seeing what you want? Call the shop at 574-971-5294 and we can send you an invoice and ship it out.