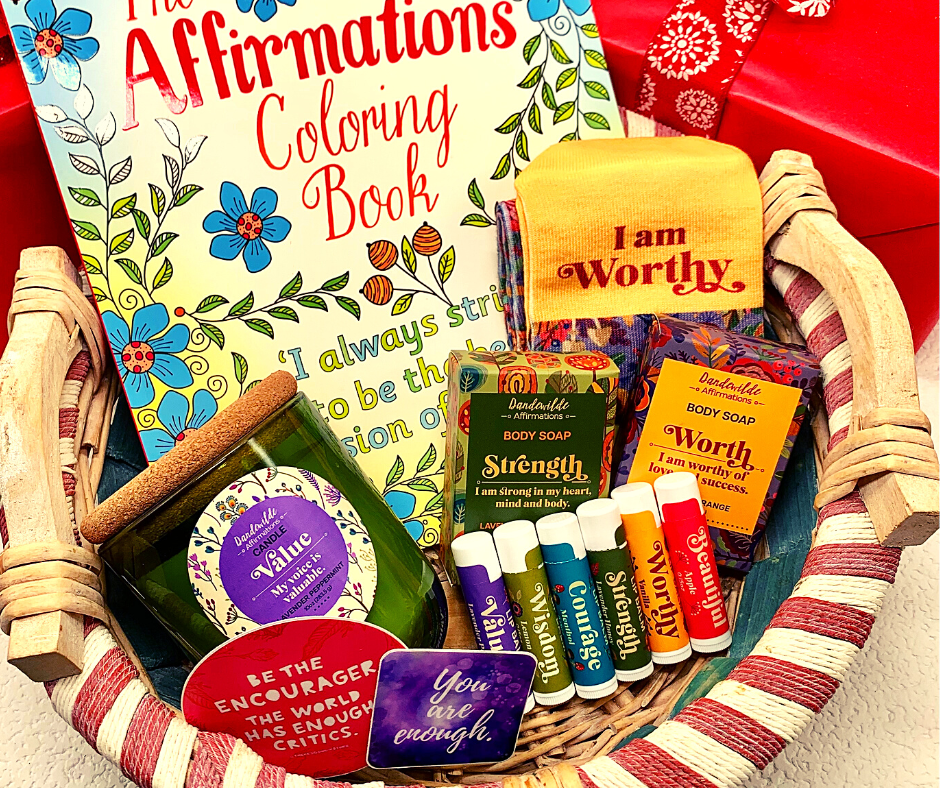 Share the Gift of Kindness with our Affirmation Line!
Our Affirmation line is a perfect way to confirm the unique worth of that special someone on your list. 
Soapy Gnome's Dandewilde Affirmation Candles $27.99. Available in 6 scents. 
Why Use Affirmations?
What if we spoke to ourselves the way that we spoke to our friends and loved ones? 
Do you speak to your friends and family more kindly than you speak to yourself? Do you have a voice in your head that tells us we're not good enough, smart enough, pretty enough, or brave enough?
Soapy Gnome's Dandewilde Affirmation Lip Balms $4.00. Available in 6 scents.
You are not alone!
Soapy Gnome's founder, Jenny discovered the power of affirmations while in counseling. Affirmations replace your inner condescending voice with one of support. Affirmations help you retrain your inner judgmental voice into one of support and love. The voice that you use with friends and loved ones becomes the one you hear when you speak to yourself.
Soapy Gnome's Dandewilde Affirmation Soaps & Window Cling $12.00
Choose the affirmation that you need to hear. 
I am WORTHY.
I am COURAGEOUS.
I am BEAUTIFUL.
My voice is VALUABLE.
I am WISE.
I am STRONG.
Affirmation Socks $14.99. Available in 6 designs to match the soaps and lib balms.
When you use the soap in your shower or bath, say the affirmation. Hang the window cling in your shower, your bathroom mirror, or any other smooth surface. When you see the affirmation, say it to yourself to remind yourself that you are worthy of kind words. Speak kindness into your life.
You're not alone in the journey to self-love. 
We see hundreds of customers a year that are looking for a gift to lift a loved one to show them they are loved when they need to hear that the most. It is our great honor that you choose us to help you share that message. It's also become the "Why" of our business. We want everyone who comes through our door--or who is gifted one of our soaps--to feel loved and beautiful in their own skin.
These soaps will make a beautiful gift for yourself, a friend, your sister, or daughter. 
Product Specifications
All of these soaps are handcrafted by Soapy Gnome's Production team. They smell wonderful and the lather is ultra-luxurious.
4 oz
Includes window cling to hang in the shower or on a mirror.
Ingredients: coconut oil, rice bran oil, distilled water, sunflower oil, sodium hydroxide, avocado oil, cocoa butter, castor oil, lavender essential oil, fragrance, mica
Vegan, phthalate-free, palm-free