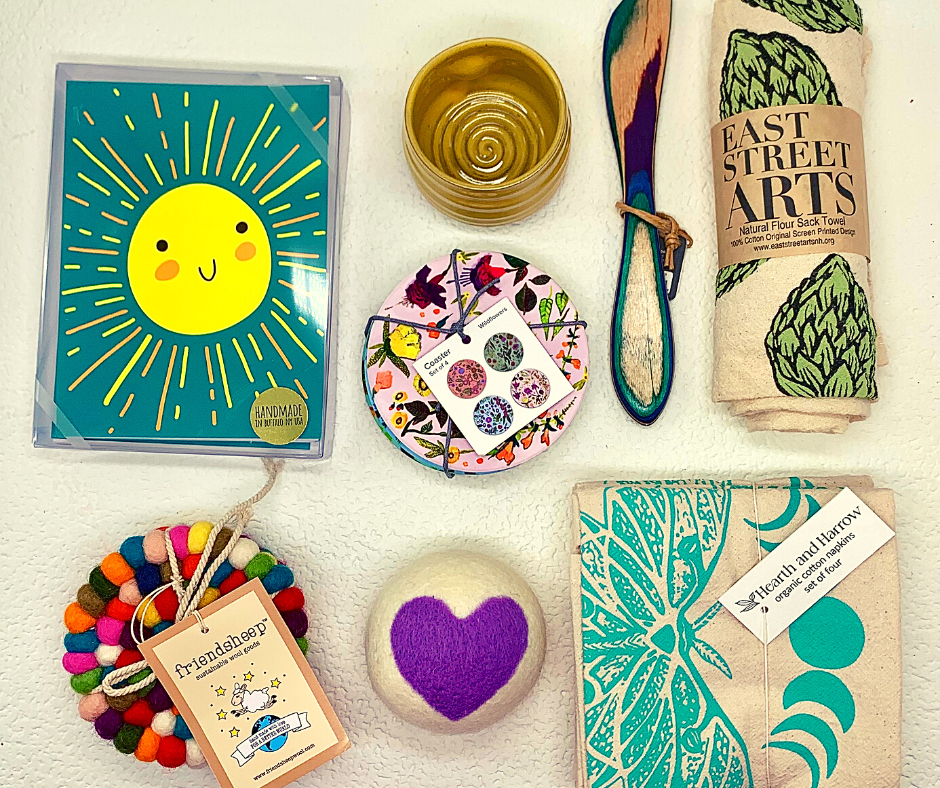 Gift Guide for Your Neighbors or Hostess Gifts
Good Neighbors Love on Their Community
If you want to show appreciation to a teacher, care giver, hair stylist or other important people in your life we can help you make it a beautiful day for all.
Friendsheep Sustainable Wool Goods are handmade with love by Nepali artisans in the Himalayan Valley of Kathmandu. Set of 4 Friendsheep Coasters $24.99 Friendsheep Trivet $19.99
East Street Arts Natural Flour Sack Towels. 100% cotton original screen-printed design.
Your purchase will help East Street Arts artisans earn money and help provide art-based employment. 
Set of 4 Hearth and Harrow Organic Cotton Napkins $40.00. Proudly made in Rockport, Maine.
Set of 4 Greenbox Art Coasters $34.99. Made in San Diego, CA
Great Arrow Boxed Cards $19.99
Gravesco Pottery Tumbler $24.00  
Friendsheep Pure Wool Dryer Balls Solid Color $5.75 & Design $6.25 
 Totally Bamboo Wooden Utensils $7.99 and up
If you would like to do an online order and want to add any of the items above to your order just call the store at 574-971-5216 or email us at hello@soapygnome.com and we'd be happy to help put an order together for you.