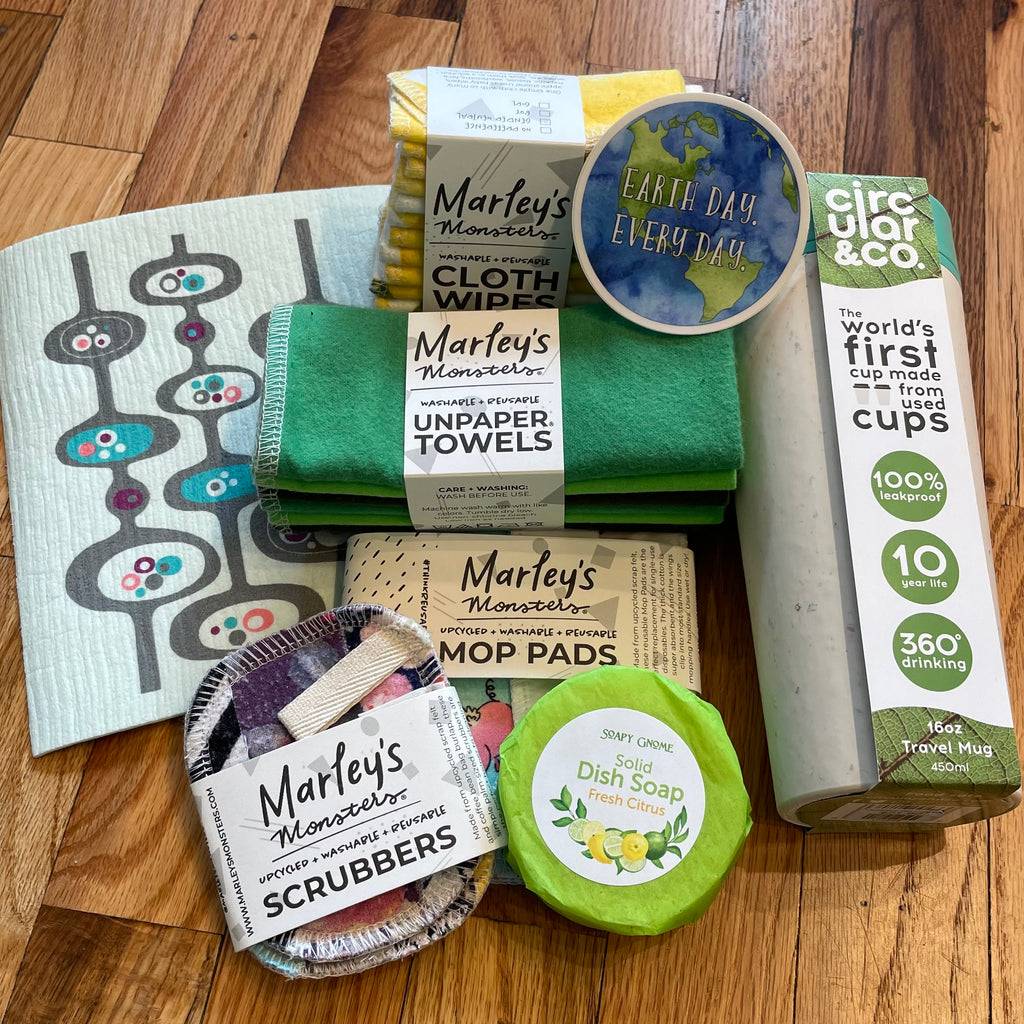 Twenty-Five Easy Eco-Friendly Products to Make Your Home More Sustainable
You'll find everything you need to get started with sustainability at Soapy Gnome. We offer a large variety of sustainable products for your home cleaning, body care, cooking, kitchen and more! 
The clean products we carry are biodegradable, compostable and made from recycled or upcycled materials. 
We work hard to package our handcrafted body care products in recyclable material. 

Foaming Soap Refill $19.99, Shampoo Soap $9.99, Conditioner Bar $9.99, Body Soap $8.00, Natural Sponges $2.99-$16.00, Shaving Soap $9.99, Shower Steamers $4.00-$14.99 
Marley's Duster Brush Made from Upcycled Material $32, Swedish Towels are 100% Biodegradable & Compostable $6.99, Nature Bee Plant Friendly Alternative to Plastic Wrap $17.99-$19.99, Eco Clean Tabs makes 6 - 16oz Bottles $13.99 (sold individually for $3.99), Pure Wool Dryer Balls Set of 3 Loads 500+ $15.99 (sold individually for $3.99), Trendy Tripper Eco Sponge Cloths are 100% Biodegradable & Compostable $11.99.
First Upcycled Travel Mug Made from Recycled Cups $21.99, Handcrafted Solid Dish Soap $9.99, Marley's Mop Pads $18, Marley's Scrubbers $11.99, Marley's Unpaper Towels $15.99 and Cloth Wipes $17.99 all made from Upcycled Materials. 
Mason Jar Attachments: Wide Mouth Pour Cap, Pour Spout, Flip Cap and Pump all $10.99.
Reusable Bags $2.99-$4.99, Reusable Lunch Bag Set- Each Bag Replaces up to 500 Single-Use Zipper Bags, Zero Waste Cards Made with Plantable Seed Paper $6.00
Odor-Free Kitchen Compost Collector $32.99.
If you would like to do an online order and want to add any of the items above to your order, just call the store at 574-971-5216 or email us at hello@soapygnome.com and we'd be happy to help put an order together for you.